Beijing/Moscow on March 6, 2019
Recently, Beijing GAEA Interactive Entertainment Co., Ltd. (GAEA) has reached a strategic partnership with Gaijin Entertainment (Gaijin), a well-known independent game developer in Russia, to jointly develop a mobile version of Gaijin's game Crossout, which will be released by GAEA in Asia. With cooperation on Crossout Gaijin and Gaea will join hands in cooperation and explore more strategic opportunities across the globe in the future.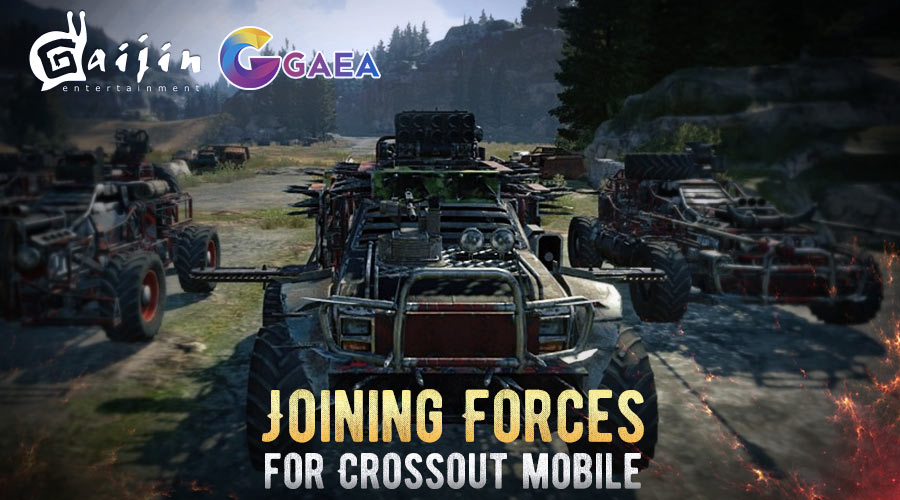 "Provide players all over the world with maximum fun and new experiences has always been Gaijin's approach and attitude to every game. Asia, especially China, is the focus of our market strategy." Anton, the founder of Gaijin, said, "Having a long-term friendship with GAEA, we found that GAEA has the same belief and responsibility with us. We will work together to bring new exciting games and exclusive service to Asian players. And we are happy to start with our worldwide hit Crossout."
"Crossout is an innovative competitive game, which meets Gaijin's high quality requirements for games. Innovation and high standards are exactly what we have been pursuing." Wang Yanzhi, CEO of GAEA, said, "The strategic cooperation with Gaijin is an important step on 'GAEA's road to globalization. In the future, we hope that we can maximize the strengths of both GAEA and Gaijin, and jointly create more possibilities. At the same time, we hope to level up our strategic partnership by collaborating on operation."
Founded in 2002, Gaijin has developed the world-renowned game War Thunder and its Dagor game engine. Gaijin has become the largest all-platform independent game developer in Russia comprising several top-notch studios with expertise in PC, mobile and console game development. Crossout is a joint creation of Gaijin and Targem studio, one of the oldest and most successful development teams in Russia, also established in 2002. The game has been highly acclaimed for its innovative DIY concept, unique gameplay and freedom of expression for the players.
In 2017, the PC version of the game was open tested in China. Since released, Crossout attracted thousands of streamers to live cast their gameplays. In addition, its high degree of freedom in building armored vehicles and unique battle design motivated creative enthusiasm of players. "Wuling Hongguang, destroy everything" and other player generated phrases have become popular Internet catchwords.
【Crossout Mobile video】https://www.youtube.com/watch?reload=9&v=Ct5NpCWXXb8&feature=youtu.be&t=9
Established in 2014, GAEA has completed its strategic transformation from a game publisher to a global interactive entertainment company, developing and publishing across the world. GAEA believes that the mobile version of Crossout will provide more exciting and exhilarating game experiences for competitive game enthusiasts from more countries and regions.
For more information, please visit GAEA's official website www.GAEA.com.
------------------------------------
About Gaijin
Founded in 2002, Gaijin Entertainment is the developer and publisher of the online games War Thunder, Crossout and Star Conflict as well as PC, Mac, Linux, PS4, PS3, Xbox One, Xbox 360, iOS and Android titles across several genres. The company's diverse portfolio has received a range of mass media and game industry awards including such as Gamescom Award and many more. Official website: http://gaijinent.com/
About Targem Games
Targem was established in 2002, with the goal of bringing high-quality online entertainment to players worldwide. The studio's portfolio includes the MMO Action games Star Conflict and Crossout and many other titles for PC, consoles and mobile devices. Official website: http://targem.com/
About GAEA
Founded in October 2014, GAEA is one of the fastest growing global interactive entertainment companies. With offices in mainland China, the United States, Japan, South Korea, and Hong Kong, Gaea employs more than 1,000 people across 11 different countries and regions. Gaea excels in global game development, game distribution, IP cooperation, and M&A. Gaea began its global expansion with the hit game Dota Arena and pioneered mobile MOBA genre with Ace of Arenas from 2015. Gaea game studios have created MMORPG games Oriental Fable and Legend of Sword. Gaea is currently working with CD Projekt Red to publishing GWENT: The Witcher Card Game in mainland China. With over 100 million users worldwide, Gaea is dedicated to providing high quality games to the world. Projects in progress include Game of Thrones, Final Fantasy XV Mobile, and Kabaneri of the Iron Fortress. For more information, visit us at www.gaea.com.